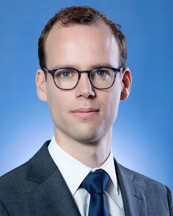 "Protection from A to Z. I assist clients from the first registration of for example a trademark or a design, up to - if necessary - litigation before a court."
Rutmer Brekhoff is an attorney at law. He works for Vriesendorp & Gaade since 2013, first as a paralegal and since February 2014 as a sworn attorney at law.
Background information
Rutmer has studied Dutch law at the University of Groningen and graduated in 2012 from the University of Amsterdam specialising in Information Law. In addition, he completed a Masters degree at the University of Groningen in Journalism. Before Rutmer joined Vriesendorp & Gaade, he was working as a paralegal for two law firms in Amsterdam. He also was a registrar at the Amsterdamse Kunstraad and did an internship at NRC Handelsblad.
Expertise
Rutmer is involved in advising, negotiation and litigation with respect to intellectual property rights (patent rights, trademark rights, copyright, design rights, database rights, trade name rights), domain names and unfair competition.
Memberships
Bar Assocation of Attorneys at Law
Jonge Balie at the High Court of The Netherlands
BMM - Association of Benelux Trademark and Design Law